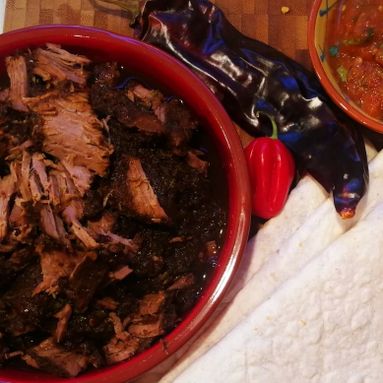 6 personen - 15 minuten + stooftijd
stoofgerecht
Ingrediënten
4 dried pasilla chiles
1 dried guajillo chile
1 dried mulato chile
1 medium onion, chopped
3 garlic cloves
1/4 cup fresh lime juice
3 chipotles in adobo
2 tablespoons tomato paste
1 tablespoon honey
2 teaspoons ground cumin
1 teaspoon smoked paprika
1 teaspoon dried mexican oregano
Cooking spray
1/2 cup chopped fresh cilantro
3 pounds lean, boneless beef roast
12 flour tortilas
Grated cheese, salsa, and other favorite toppings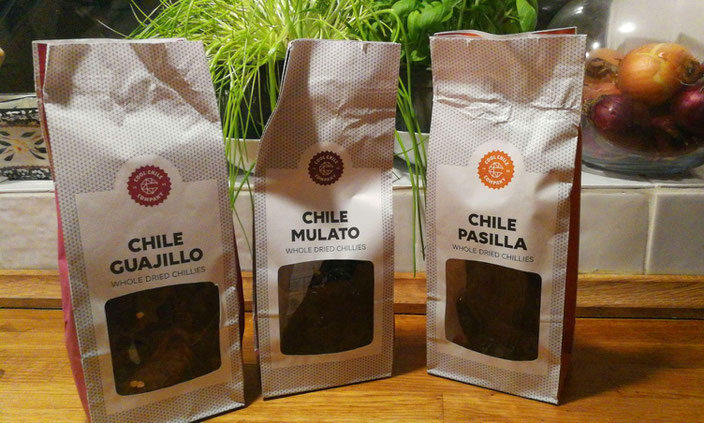 Bereiden
The night before
1. In a comal or a heavy frying pan over medium-hight heat, add the dried chiles and quickly toast them on all sides, no longer than 2 minutes total.
2. Remove the chiles to a bowl and cover them with hot water. Let them soak overnight at room temperature.
In the morning
1. In a blender, pour the chiles and their soaking water into a blender along with the onion, garlic, lime juice, chipotles, tomato paste, honey, cumin, smoked paprika and oregano. Blend until smooth. Taste and adjust the seasoning as desired.
2. Spray the slow cooker with cooking spray.
3. Into the slow cooker, pour half of the sauce and add the meat and then the rest of the sauce so the meat is fully submerged. Cook on low for 11 1/2 hours.
4. Add the cilantro and cook for another 30 minutes.
5. Transfer the beef to a cutting board and shred it using two forks, and then transfer the meat to a serving bowl and stir in a little of the sauce from the slow cooker to moisten it.
6. Warm the tortillas in a dry skillet over medium-high heat.
7. Spoon the meat into the warm tortillas and top with your favorite toppings.
Cooking tip:
Don't throw out the liquid left in the slow cooker when your meat is used. Use this highly flavored liquid as a base for soups or as a sauce to add to other dishes. Taste it and check for seasoning before using. Keep leftover sauce in the refrigerator for up to a week or freeze it for longer storage.
Kookboek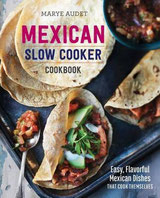 Mexican Slow cooker cookbook
Marye Audet
Simple & Tasty Mexican Slow Cooker Recipes In 20 Minutes Or Less Sure, you love eating Mexican food, but who has ...
---
Geef een reactie
Het emailadres wordt niet gepubliceerd.